7 Life Lessons We Can Learn From Dishoom
By guest blogger: Anubhav Proothi
Nothing great was ever achieved without risking a few lives. Recently, that life was mine. Yes, it's true. I put my life on the line as I watched Dishoom to support the cause of Flickstree blog, and I live to tell the story. And in return all I ask is for the bards of the future to write songs about this day.
It was a mightily uncomfortable semi-sleeper from Bombay to Goa and the passengers had just started to semi-sleeper-equivalent-of-tuck themselves in. It must have been around midnight when a hydraulic buzz indicated the tilting of a TV screen in the front of the bus. In hindsight, I should have just taken a pill the moment the name of the production house, the film and then the caste-credits started rolling in. But there I was, in the small intestine of Indian cinema where lies waste the dump of big Bollywood production budgets. And I live to tell the story.
Oh yes, the story. You may think of it as Dhoom after a year-long Gold's Gym membership. When a top-scoring Indian cricketer with a completely out of the box, uninspired name Viraj disappears 2 days before an India vs Pakistan showdown, a cop with temper and a smoking problem (John Abraham) gets sent to Abu Dhabi to find him in 36 hours. There he is aided by a local rookie cop (Varun Dhawan) who is yet to find his missing dog. For the next two hours, they don't get along.


I wouldn't want to take away the joy of experiencing first-hand the thrilling chases and tight fitting t-shirts from you, so in the least sadistic way possible, I urge you to watch the movie to believe what I tell you. Once you are done, ask yourself this question: what do I know, what have I learned? I did the same exercise, and here is my answer in precisely detailed bullet points.
Pick-up lines have always been sleazy.
This movie has finally proven it. Whether used in a bar or in a pool, directed towards sari-clad ladies or men sporting boxers, coming from a leering Shakti Kapoor or from Akshay Kumar playing a gay playboy, pick-up lines have always been and will always be sleazy and cringe-inducing. Especially so if it goes like:
"Their fathers must be bakers, because they've got perfect buns"


The perfect way to stay clear of sexist accusations.
This film could have come under the feminist radar quite easily. It stars three actresses: Jacqueline Fernandez, with one item song and dialogues that can be counted on your fingers; Nargis Fakhri, for one bikini scene; and Parineeti Chopra, for no reason except to dance to the end-credits number. But this time the filmmakers got it right by objectifying men as much as they objectified women, thus nullifying any allegations of sexist undertones.

Kidnappers carry GPS trackable mobile phones of their victims to the super market.
Let's face it, roaming is expensive. If you've gone the distance to kidnap a high profile cricketer in UAE, you might as well carry his cell phone to grocery shopping in case Mom calls. Now is it this man's fault that it just happens to get stolen from his pocket by an inconspicuous pick-pocket, Jacqueline Fernandez?

Even mean people are essentially good human beings.
Twice, not once, in the film, in the interest of impeccable action stunts, the mean guys forget that they can steer their vehicles left or right, can speed up, brake or swerve. You see subconsciously, they are all nice people and want to help the police. They just happened to be stuck in an unfortunate circumstance in the exact place at a properly synchronized time. Could happen to anybody.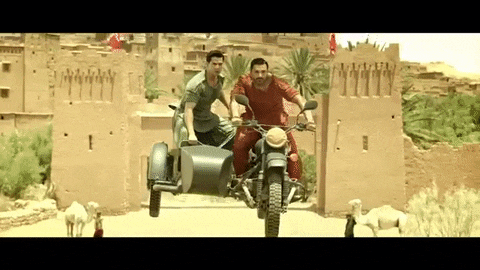 Kidnapping and physical injuries aren't as traumatic as one would expect them to be.
I learned that all this time, we've been overstating trauma. If you've been kidnapped for two days, have had a time-bomb attached to your chest, have gotten your shoulder dislocated by cops while trying to reconstruct a Houdini magic trick, you can still gear up and open for Team India in half an hour. Everyone who says you can't is a cry-baby.

Civilians play a major role in international security, even if you don't want them to.
After 36 hours of searching and failing to track down the menacing villain Wagah, India's top cop finally found the menacing villain Wagah (Akshaye Khanna) fleeing on a yellow Toyota – an intel that was received as a "civilian tip." You should know this was a highly confidential case, so here's what I imagine the civilian said to himself: "Oh this man leaving on a blaringly yellow Toyota looks menacing and villainous, almost as if he's the prime suspect in a major crime. Let me just inform the authorities."

Always, always pay the extra 500 to pick sleepers over semi-sleepers while taking an overnight bus.
While this has nothing to do with this movie per se, remember this: if you enjoy movies during bus rides, bring your own. Do not let anybody else decide which movies are good for you.

Well, except Flickstree.

P.S. – If you want these life lessons, the movie is available on Eros Now to watch.